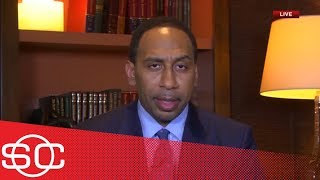 | | | | |
| --- | --- | --- | --- |
| 500.5K | 4.2K | 16 May 2018 | 02:13 |
PLAY AUDIO
VIDEO:
Description:
Stephen A.: Cavs 'were An Absolute Disgrace' In 2nd Half Of , Stephen A. Smith joins SportsCenter to break down Game 2 of the Boston Celtics vs. the Cleveland Cavaliers, saying the Cavs "were an absolute disgrace" in the second half and LeBron James needs to play better.

✔ Subscribe to ESPN on YouTube: http://es.pn/SUBSCRIBEtoYOUTUBE
✔ Watch Latest Episodes on WatchESPN: http://es.pn/LatestEpisodes
✔ Watch ESPN on YouTube TV: http://es.pn/YouTubeTV

Get more ESPN on YouTube:
► First Take: http://es.pn/FirstTakeonYouTube
► SportsCenter with SVP: http://es.pn/SVPonYouTube

ESPN on Social Media:
► Follow on Twitter: http://www.twitter.com/espn
► Like on Facebook: http://www.facebook.com/espn
► Follow on Instagram: http://www.instagram.com/espn

Visit ESPN on YouTube to get up-to-the-minute sports news coverage, scores, highlights and commentary for NFL, NHL, MLB, NBA, College Football, NCAA Basketball, soccer and more.

More on ESPN.com: http://www.espn.com..